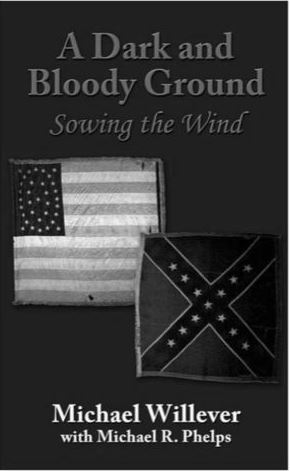 Michael Willever spent ten years of his lifetime (2004-2014)researching, compiling, touring the battlefield, mapping it and writing a fictional narrative on the Battle of Perryville, Kentucky. He spent over a year researching the history of the event before writing a single word. He incorporated every fact uncovered and strived to not include anything that could not fit or be connected to what we know of these events.

Michael Willeverís first novel...

A Dark and Bloody Ground - Sowing the Wind

A historical narrative, which takes place during the Kentucky Campaign in 1862, takes you through the events leading up to the Battle of Perryville, Kentucky.

Michael Willeverís second novel...

A Dark and Bloody Ground - Reaping the Whirlwind

This novel puts the readers on the battlefield! You will see all the action through the eyes of several protagonists. These novels are a must read for all Civil War and History Buffs!!! These novels are both available through Amazon, Authorhouse, Barnes and Noble and where all other fine books are sold.

On a very sad note I hate to report there will be no more books to follow this wonderful book series due to the fact that we lost Michaelís research assistant Michael R. Phelps in 2016 to cancer. Then; on March 14, 2017 we lost author Michael Willever to a sudden heart attack.

Please feel free to share this with your family and friends.
1. KING TV, Seattle WA.
"Purple Heart returned to family"
07/2017.

2. "Warriors of the 106th"
book with 41 references.
2017.

3. "Integrated Cultural Resources Management plan for Indiana Army National Guard Facilities"
2001 - 2006

4. Camp Atterbury Joint Maneuver Training Center, August 08/11/2000.

5. Camp Atterbury Veterans Memorial Assn. (CAVMA)
Continuous

6. 30th Infantry Division
web site
Continuous

7. "WW2 Jet Parts Unearthed at Freeman"
07/17/2012

8. "The Diggers"
TV eposide of Freeman Field digs
9. "GI JEWS"
Jewish Americans in a WW2 movie
10. Atterbury Crier
11/2004November 2004.
11. The Republic
11/11/2004
12. The Republic
11/14/2004.
13. Shelbyvile News
03/21/2005.
14. Shelbyville News
03/22/2006.
15. The Republic
07/17/2012
16. 106th Infantry Division Assn. Discussion Board
Continuous
17. Revere's Riders
"National Museum of the Pacific War"
18. German Military Attache
German Embassy, Washington D. C.
Search for German POWs held in America
19. PBS affiliate at Indiana University in Bloomington, IN. a documentary segment on the Tuskegee Airmen in Indiana.
20. United States Military Grave Registrations
Search for MIAs
21. 01/2017
"Mitchell Gallery of Flight Museum"
at General Mitchell International Airport, MKE, WI
22. 01/15/2018
Return of military ID tag lost on Normandy beach to Boris Stern, 30th INF DIV.
23. 04/17/2018
Documentary on
MSgt Roddie Edmonds,
who saved 200 American Jewish soldiers
24. 07/14/2018
Dutch/Belgian Fields of Honor
www.fieldsofhonor-database.com
25. 07/14/2018
Indiana University Studies app
to support the Indiana High School
Studies app.
26. 07/31/2018
"Autopsy of a Battle"
by Jean-Loup Gassend
08/26/1944
27. 03/07/2019
Samuel Klee PhD dissertation about prison farms during World War II
28.
"Wyoming WWII Film"
of an American POW during WWII, held in Stalag XIIA, Stalag XB, and Marlag Nord.
04/19/2019
29.
www.fieldsofhonor-database.com
reference the rosters regularily 06/19/2019
30.
www.RohnaClassified.com
HMT Rohna attack by German guided bomb, 11/26/1943
T/4 Joseph Pisinski
31 Signal Const. BN